Life's Regrets, and How to Use Your Leftover Ham
It's great to be home, back in Minneapolis, but it was also great to visit home – you know, the place to which you'll forever be connected because every road triggers a memory.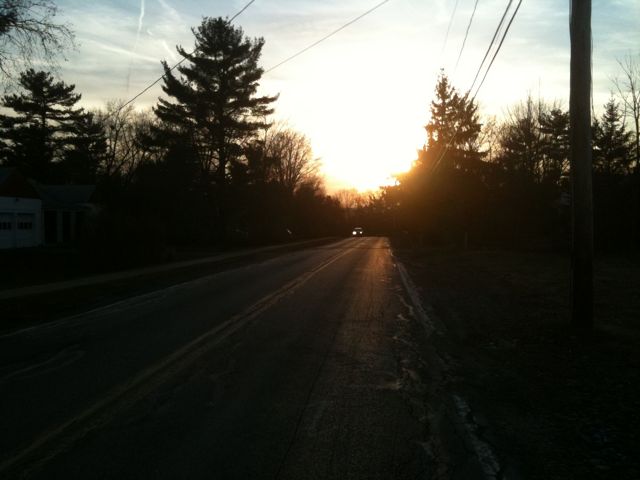 While in Ithaca, I went for a drive through Cornell. I passed fraternities where I attended formals (once set-up with a guy who sang Broadway show tunes to me all night; it didn't work out) and others where I got my heart broken. But I didn't care. All my memories, both good and bad, had converged to form my past, one I suddenly felt nostalgic for, while our baby girl gurgled in our backseat.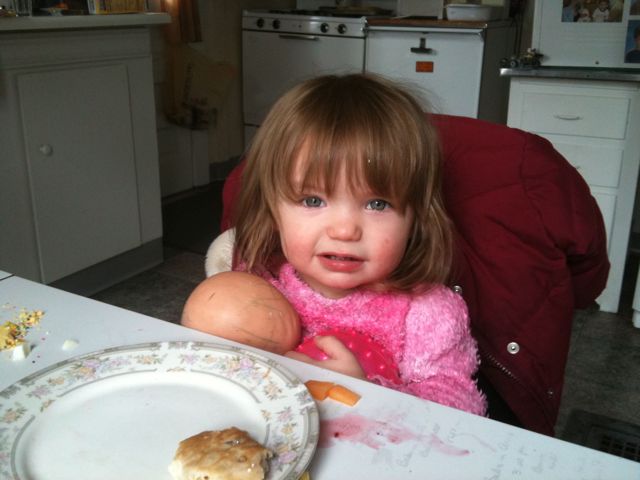 What she looks like with her hair brushed.
Then I came to the place where my grandmother was buried, and had a sudden urge to introduce my daughter to her. My grandmother was close to my sister, and, because of that, over time I found it difficult to find my place with her. Not because of her; she left her door open. Because of me. My interest lay elsewhere: in school, in boys. And then one day, she got sick, and I knew I'd been foolish.
There are things you forgive yourself for when you have a child. Because when you have a child, you realize faults are a part of every life, and a grandmother's love overlooks yours. And while I don't have many regrets in my life, I do regret those times I didn't show up. Because often it's not what you say or do that matters as much is that you were there. That you were present.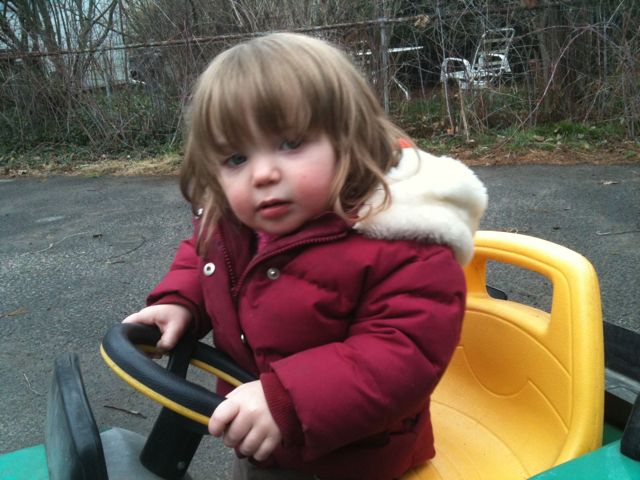 What she looks like when I don't brush her hair.
And so I showed up at the place where my grandmother was buried, and I felt her there with me. I miss her: how she set the fire alarm off when she cooked pizza. How she peeled six potatoes before I finished one. How she gave me five dollars when I found her car keys in a berry patch.
Yesterday, we celebrated Easter with our friends Anne and Pete, who sent us home with delicious leftover ham (how's that for a segue?). For dinner tonight, we're making White Bean and Ham Soup, adapted from Food & Wine Magazine:
1 tablespoon unsalted butter
1 large white onion, diced
1 carrot, chopped
1 garlic clove, peeled and smashed
1 teaspoon thyme
1/2 teaspoon ground coriander
4 cups chicken stock or low-sodium broth
3 15-ounce cans cannellini beans, drained
1 pound leftover ham, diced
salt & pepper to taste
1 tablespoon tabasco sauce
Saute onion, carrot, garlic, coriander and thyme in butter for 3 minutes. Then, add stock, beans, tabasco, and salt and pepper to taste. Bring to a boil, and let simmer covered for twenty minutes. Puree in a blender, return to pot, add ham and set over low heat for five minutes. Serve warm.
This soup was much more appetizing than it looks. I'm having some technical difficulties, with no time to fix them.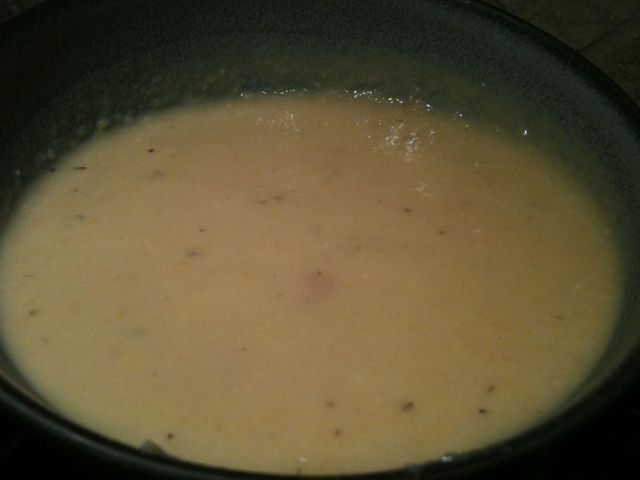 No related posts.
Related posts brought to you by Yet Another Related Posts Plugin.