What is an Aebleskiver?

Thanks to all the Blog Pantry ladies who came out to Local D'Lish to try their hand at Aunt Else's Aebleskivers last night. We poured batter into aebleskiver pans and chose among ingredients like cheese, chocolate, bacon, chives, pepper jams, and sausage for the filling. We were delighted by the result: A Danish pastry made of soft dough, with a savory sweet filling, smothered in maple syrup.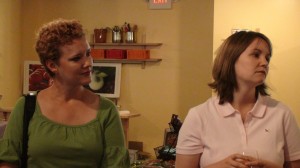 Have you ever made an Aebleskiver? Have you ever heard of it? And most importantly, can you spell it?
(The sound quality on my video isn't great; we tried a new sitter last night, and in my effort to provide a contingency plan for anything that could possibly happen, like what to do if the baby doesn't like the flow on the nipple, or her brothers won't stop sitting on her, I forgot my microphones.)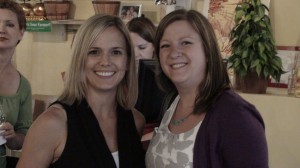 Crystal of Cafe Cyan took home the grand prize for her recipe. No surprise there; she's a professional foodie.
Also thanks to Kim Moldofsky of Mom Impact and Chad Gillard of Aunt Else for organizing the event.
Appearing in video: The Kitchen Pantry Scientist, Finding Borneo, Little Bean Photography, LoveFeast Table, The Snyder 5
No related posts.
Related posts brought to you by Yet Another Related Posts Plugin.